S&C Members- Mark Your Calendar!
Special Call Meeting Nov.1st 9:30am
IBEW Local 332 Hall
2125 Canoas Garden Ave,San Jose

With less than a week's notice, over 250 S&C members met Oct. 18 to hear a report from the S&C Negotiating Committee. Members stand strong and united for a fair contract. The Nov.1st meeting will report to all members on the contract to ratify or a last, best and final offer that may result in a vote to reject. All S&C members are encouraged to attend.
---
This is the final push for precinct walks and phone banking click below for the calendar of events until election day
We need volunteers in Alameda and San Joaquin County, please call the hall to sign up!
If you live in another county in California, click on the new California State Association of Electrical Workers Website to see a list of IBEW endorsed candidates by County- www.csaew.com

---
A Big congratulations to Daniel O. Chivello, Business Manager Designate!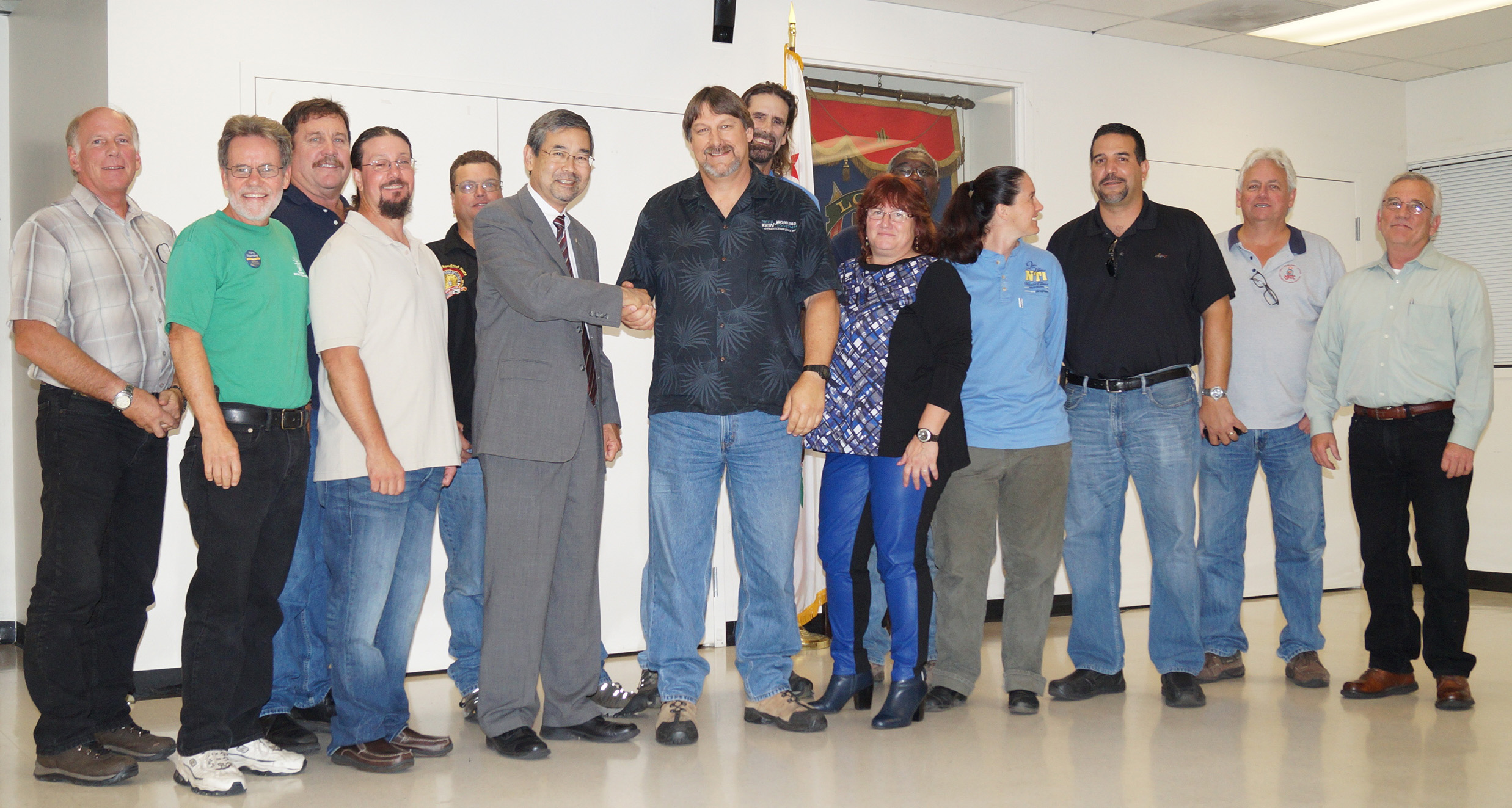 Pictured above from left- Bob Tieman, Tom Mullarkey, Sean Kyle, Greg Bonato, Tim White, Victor Uno, Daniel O. Chivello, David Thoni, Barbara Dees, Earl Hampton, Tanya Pitts, Sam Kharufeh, David Nelson, and Matt Maloon.
Special invite to all members- November 13 General Membership meeting at 6pm, Oath of Office installation of Daniel O. Chivello. Special thanks to Victor Uno for 12 years of service and sacrifice to the members and families of Local 595. We wish you all the best in your new role as 9th District International Representative effective November 1, 2014.
---
595 Member Benito Granillo is in the fight of his life: Leukemia. Brother Granillo graduated from our Alameda JATC as an Inside Wireman in 2013 and he needs our help.
The Granillo family stopped by to thank Local 595 members for all of the support given to 595 member Benny in his fight against leukemia. Pictured are Benny's mother Rosie, Benny, son Nolan and wife Jeana.
---
The A's organization had Stomper and the three giant A's (Eck, Henderson and Fingers) visit, which the kids and adults enjoyed.
Close to $1,000.00 was raised for 595 member Benny Granillo. In the photo below, his friends join Mel Switzer and the A's Andrew Bleaken, and to the right of Stomper are Benny's father-in-law, Benny's son Nelson, and his wife, Jeana. Benny is recovering from chemo and is doing well in his fight against leukemia, but was not able to attend.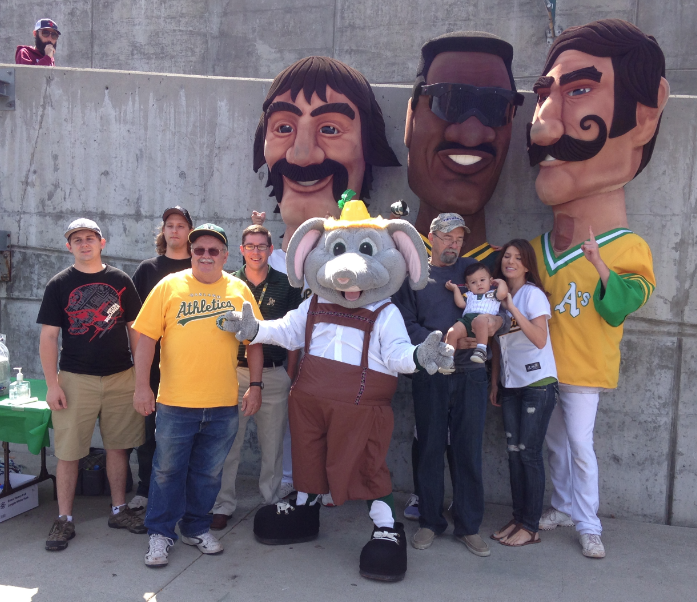 ---